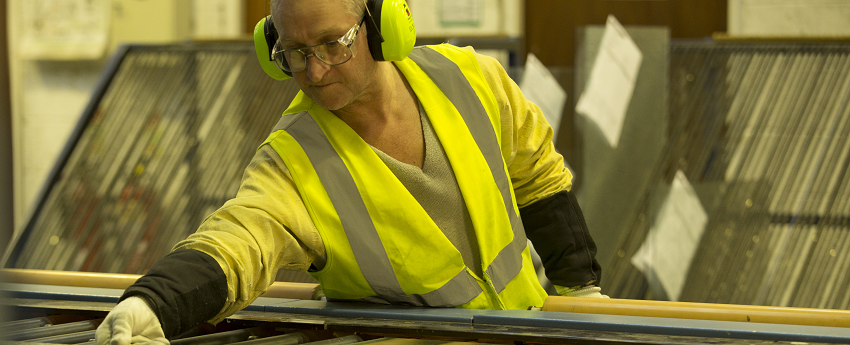 Taking health and safety seriously
Recent events have encouraged a number of industries to reflect on the importance of health and safety. Rules should be seen as positive action as opposed to nuisance red tape. Having and abiding by strict health and safety processes saves lives, prevents injuries and ensures workplaces are not putting anyone at risk.
In 2015/16, 621,000 injuries occurred at work according to the Labour Force Survey and a total of 30.4 million working days lost due to work-related illness and workplace injury. It is statistics like this which illustrate just how important health and safety is.
Donwood is committed to the pursuit of excellence in all we do - whether it's our products, the quality of services offered to customers, or the standard of health and safety provisions we make. We pride ourselves on our proactive attitude and value on health and safety for our employees and visitors. Of course, working with glass means we have a lot of risks to bear in mind so following strict procedures ensures our team stays safe and risks are minimised.
The Health and Safety at Work Act 1974 and its associated legislation created a legal obligation to maintain a safe working environment - our aim is always to exceed those standards.
From day one, our employees are expected to buy in to our health and safety protocols to keep standards high throughout our glass processing plant and delivery areas. New starters are shown the importance of health and safety as part of their induction and introduced to our health and safety policy. We expect the whole team to maintain a vested interest in keeping themselves and their colleagues safe.
Our staff also benefit from health and safety courses, on-the-job training, plus personal protective equipment (PPE) such as ear plugs, glasses, gloves and other cut resistant clothing. Formal contracted training is offered to the team too where there are particular risks associated with a role such as manual handling, forklift training and banksman training - after all, workplace transport can pose a major risk to staff health if not taken seriously.
We proactively work hard to think of ways to reduce risk. Regular risk assessments are carried out where we involve all staff and consult them on ways to lower risk as part of their roles. Whether it's specific tasks or machinery, they have the best knowledge of potential day-to-day risks so we're keen to have all staff contribute to risk assessments and help us to make Donwood a safer place to work. This is combined with regular safety tours and audits throughout the day where our team checks for and resolves deviations from our policy to keep standards high and our team safe.
Everyone should always be thoughtful and aware when it comes to health and safety - and it should never be seen as a challenge or a burden. We don't believe in turning a blind eye to any risks - no matter how small they may seem. The health and safety of our staff or anyone visiting our site is paramount.
Our attitude to health and safety reflects our approach to all the different elements of what we do; we're committed to quality - whether it's our products, our services, or ensuring Donwood is a safe place to work.